PowerSlide X Plus
---
▪ Auto Batch Scan 135 Mounted Slides
▪ 10,000 dpi / True Color
▪ 4.2 Dynamic Range
▪ Optimal Brightness - Auto Exposure
▪ IR Dust/Scratch Removal - Magic Touch
▪ HDR - Multipass Xposure
▪ Color Reconstruction - Auto Color
▪ Noise Reduction
▪ Support DNG format
▪ Support Mac/Windows
---
▪ Auto Batch Slide Scanning - With the included slide magazine, the PowerSlide X Plus is capable of non-stop scanning up to 50 slides at a time.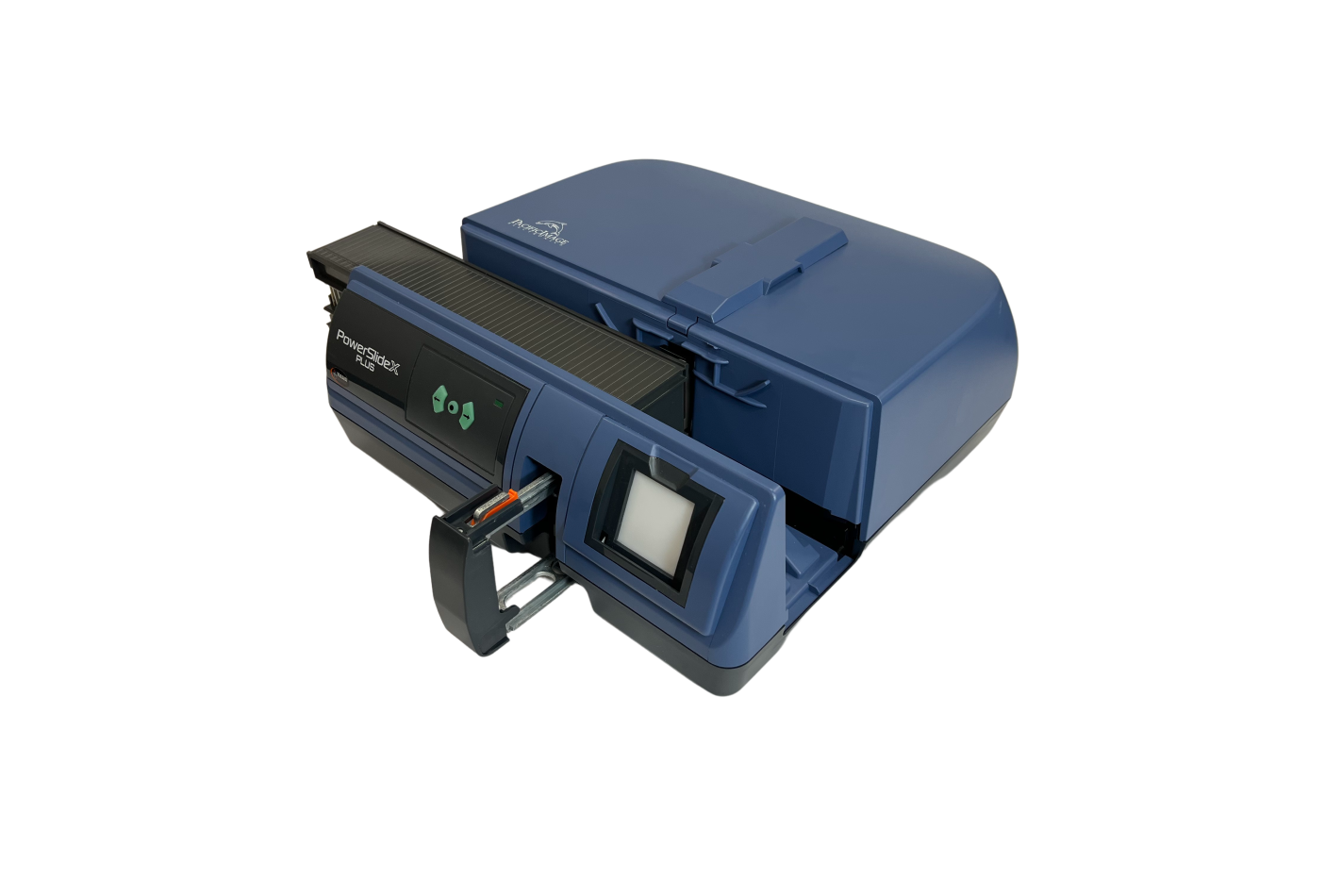 ▪ 10,000 dpi resolution with true color - Different from the majority of DSLR or CMOS scanner using Area CMOS Bayer pattern to simulate RGB, all film scanners from Pacific Image use true RGB linear array CCD to scan, which helps PowerSlide X Plus to provides high quality scanning capability of 135 slide.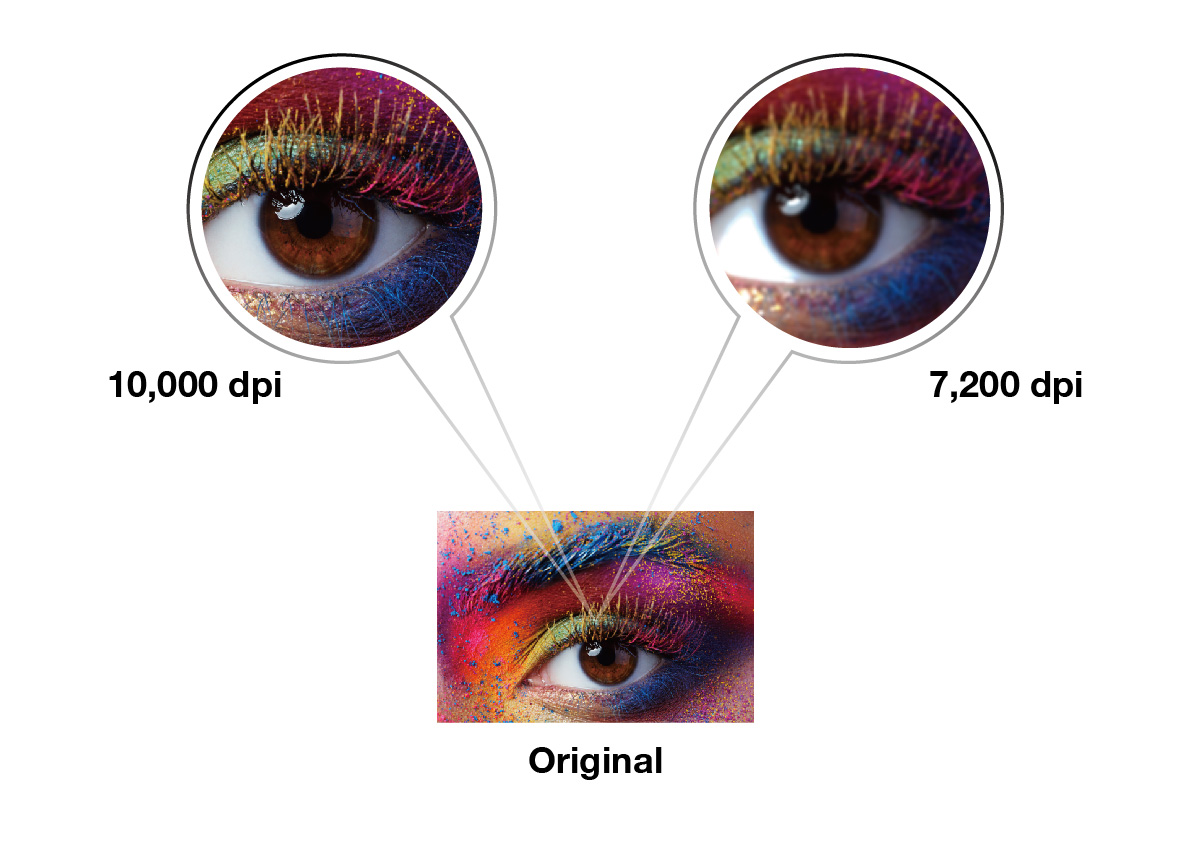 ▪ User friendly interface
1. Quick Slide Viewer - The PowerSlide X Plus has built-in a mini light panel which allows users to conveniently view the slide image before scanning.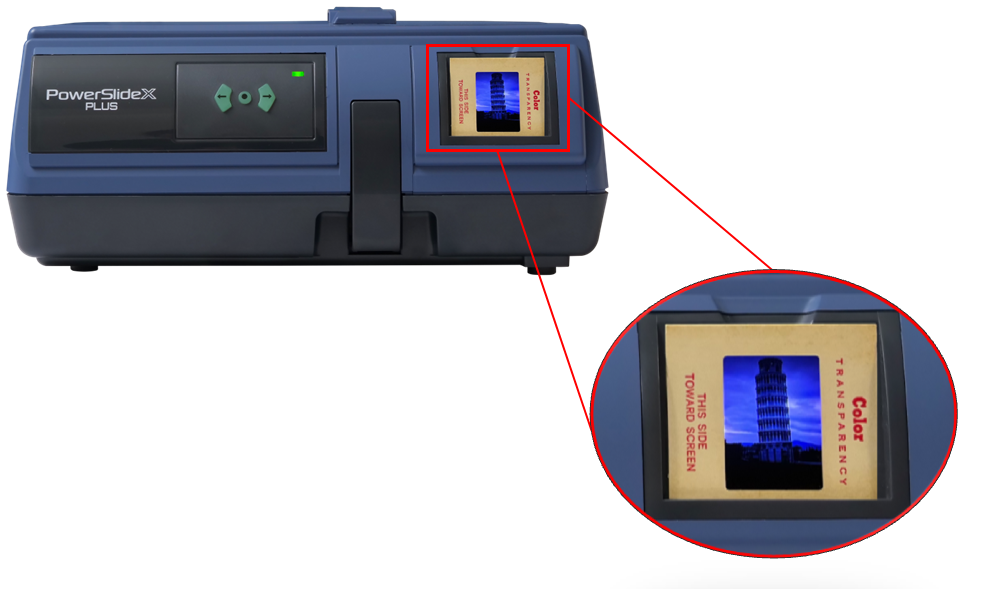 2. Manual Front Control Panel - Users can advance or reverse the slide tray by pressing the navigation buttons from the manual front control panel.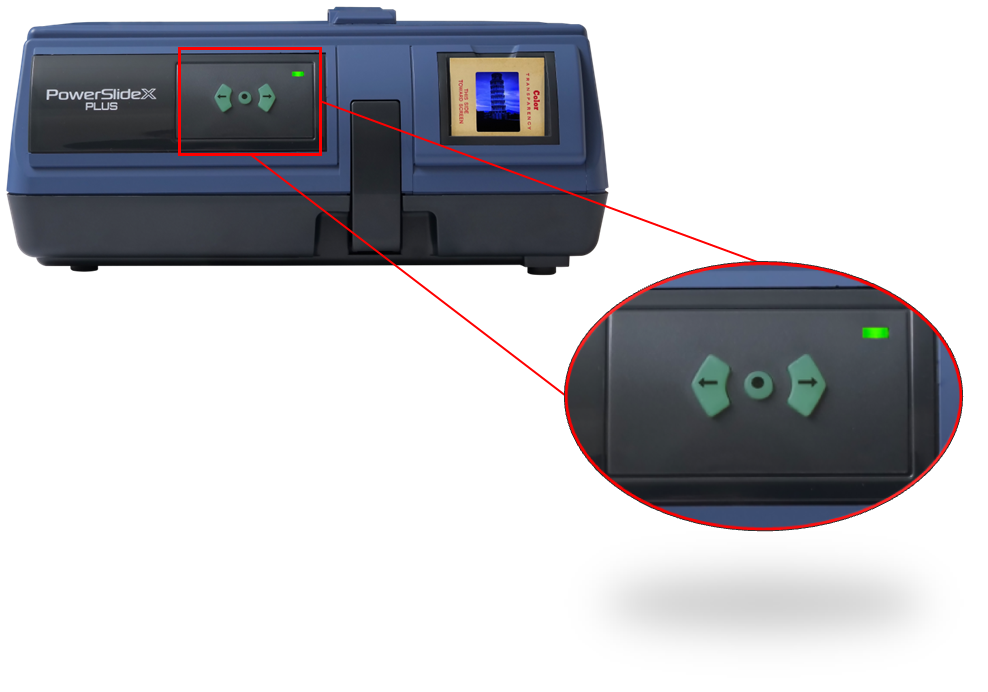 3. One scan button - By pressing the one scan button, users can experience faster scanning process.
▪ Enhanced scanning speed - For scanning positive slide, PowerSlide X Plus offer 2.5x faster scan speed than the previous PowerSlide X with the same resolution of 5,000 dpi.
▪ Enhanced software support
a. Optimal brightness - Auto Exposure technology achieve optimal brightness, which helps the image to become neither too dark nor too bright.

b. Bleaching reduction - Auto Contrast technology makes highlights appear lighter and shadows appear darker within images.

c. Infrared dust and scratch removal - Magic Touch technology eliminates flaws in film, such as dust or scratches, in the final image scan.

d. Optimal dynamic range - Multipass Xposure technology scans each frame or slide multiple times to enhance the detail of dark area without sacrificing the bright area.

e. Higher color accuracy - Accurate color adjustment, resulting in vibrant images with optimal brightness, contrast and saturation.

f. Digital noise reduction - Isolate and manage noise/grain in both highlight and shadow areas without sacrificing image detail.

g. Fading Film Color Correction - As the films are placed in a long period of time, it will become fading. We have unique technology to correct this issue.
h. Support DNG Format - Keep the original raw image data in DNG format. Professional users can get their preferred image by post-processing from the raw image without any distortion in advance.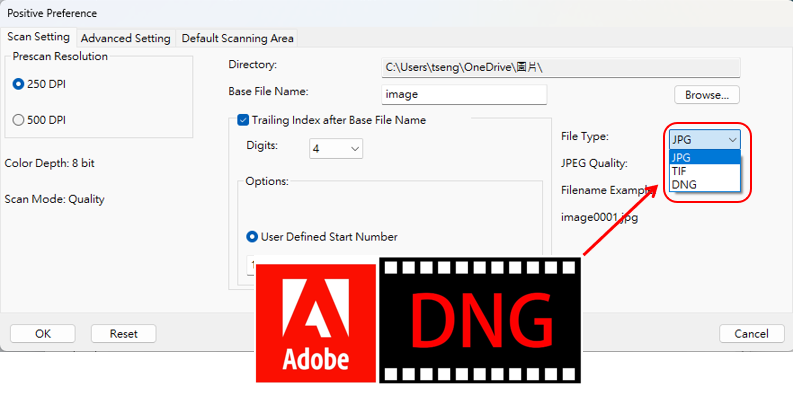 Minimum System Requirements
PC
• Windows 7/8/10/11, 32 & 64bit
• RAM: 4GB Minumum (8 GB or more Highly Recommended)
• Hard Disk Free Space: 50 GB or more
Mac
• Operating system: Mac OS X 10.7 (minimum), PowerPC chip not supported
• RAM: 4 GB Minumum (8 GB or more Highly Recommended)
• Hard Disk Free Space: 50 GB or more
Scanning Media
135 Mounted Slides
Resolution
10,000 DPI
Dynamic Range
4.2
Advanced Features
Auto Batch Slide Scanning (Max: 50 slides at a time)
User friendly interface

• Slide Viewer

• One Button Scan

• Manual Front Control Panel

Light Source
White and Infrared LED Array
Sensor
Linear Array Color CCD
Data Conversion

48 Bits per Pixel (color mode)

16 Bits per Pixel (grayscale mode)

Image File Format
JPG, TIF
Scanning Area
37mm x 37mm (H x W)
Interface
USB 2.0
Power Supply

Input: AC 100-240V; 50/60 Hz

Output: 12V DC / 1.5A

Accessories
• 50 Slide Magazine
• Wall-Mount Adapter
• USB 2.0 Cable
• Quick Installation Guide
Dimensions
11.8 x 11.4 x 5 inch (300 x 290 x 125 mm)
Net Weight
5.51lb (2.5 kg)
OS

Windows 7/8/10/11

Mac OS 10.7 (minimum)

Hardware Requirements

Windows
• RAM: 4GB Minumum (8GB or more Highly Recommended)
• Hard Disk Free Space: 50 GB or more

Mac
• RAM: 4GB Minumum (8GB or more Highly Recommended))
• Hard Disk Free Space: 50 GB or more
Please refer to the Quick Installation Quide before downloading:
/archive/scanner/PIE_QIG 2021 ENGLISH_2021_12_17.pdf
Driver for Mac OS 10.7 or higher
Driver for Windows 7/8/10/11 32 & 64 bit